It is estimated that more than 500,000 bicycles are stolen every year in England and Wales. It's clearly a problem on a massive scale, which is why we developed our lightweight and secure bike lock, but who are these thieves and what happens to the stolen bikes?
While there is little published data on bicycle thieves, a 2011 publication by Transport for London and the Metropolitan Police Service suggests that the average London offender is male,16- 25 years of age and operates in loose gangs. He trades stolen bicycles for cash or goods, and is willing to travel three or four miles to areas of high unattended bicycles. From their research of cycle theft offenders, 90 per cent have a history of criminal activity prior to arrest.
Thieves then sell the stolen bikes at street markets and through online portals. It isn't clear the proportion of stolen bikes sold on the street versus online, but the police in London are focused on disrupting both these resale points.
What's more, the police aren't safe either. According to this Freedom of Information (FOI) request the Cambridgeshire Constabulary had seven or eight bicycles nicked in the 2012/2013 financial year. Thankfully, most of them were recovered.
Why bicycle theft is so prevalent
The Metropolitan Police Service believes cycle theft is attractive to offenders because it's a low risk, high reward crime. Setup costs for thieves are low as tools aren't expensive, and it doesn't require much training or knowledge to steal a bike.
Priceonomics, an organisation that helps companies with data, echoes these sentiments. In an article about stolen bikes in the United States, it discusses an economic theory of bike crime in which criminal activity, especially one with clear financial gain, can be modeled like any financial decision, on a risk reward curve. Although based on bike crime in the United States, the graph below can also loosely be applied to the UK.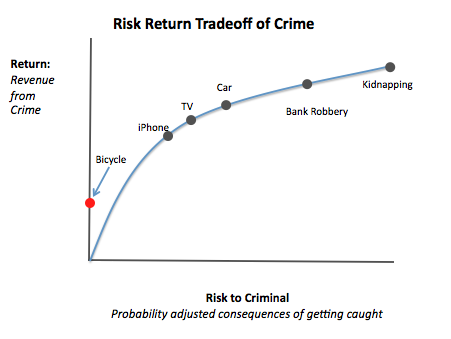 The article aptly asks "Is the juice worth the squeeze?".  Looking at this graph on bike thefts, the answer is categorically yes. And bike thieves would probably agree.
Tales from a former bike thief 
In late 2012 a good-news story came out about a convicted London bike thief who managed to turn his life around and use his interest in bikes for the good of the community.
After being arrested numerous times and spending four to five months in prison for bike-stealing, Shenol Shaddouh trained as a bicycle mechanic through Bikeworks, a social enterprise with programmes to help employability of disadvantaged groups.
In an interview with him by The Docklands & East London Advertiser, Shenol describes his life as a bike thief and how he operated. Working with a small group of friends, he stole bicycles from all over London and sold them to a "network of dealers". He would go to places like "Kensington, Chelsea, Victoria, Oxford Street, Peckham and Lewisham", and on a good day would steal up to ten bicycles and on bad day, two.
A most revealing part of the piece is Shenol explaining that if the group had extra cash they would buy an expensive lock and work out how to break it for future jobs. Before becoming fully aware of the extent to bike crime in the UK, and London specifically where I live, I hadn't fully appreciated this point. I had assumed, like most, that bike thieves were more opportunistic in nature, looking for easy targets, without much pre-planning. Of the professional bike thieves out there, I can now picture their thought process: "Oh, that's a xxx lock, I know exactly how to break that, and no one's going to catch me … meh meh meh".
Shenol would mostly carry hand-held cable, metal and bolt cutters and pick keys, occasionally bringing a scaffolding pole to twist and snap locks. He would only operate at day time, and mostly got away with it. It's not surprising that stealing bikes in broad daylight is an effective routine, not many people seem to question this suspicious behaviour, as can be seen in this tongue in cheek video of an avid cyclist in New York stealing his own bikes.
Psychology of Surveillance
In an interesting experiment conducted at the Newcastle University campus, researchers analysed the impact to bike theft after installing signs with images of  "watching eyes" with a verbal message. Reported thefts were monitored for 12 months before and after they installed the signs.

They observed a decrease by 62% at the experimental locations, but an increase by 65% in the control locations (where no signs were installed).  This suggested that signs were effective, but displaced the crime to locations without the signs.
The rationale behind using watching eyes imagery stemmed from behavioural science. In previous studies, it was demonstrated that images of watching eyes increased compliance with social norms in situations such as contributing to an honesty box and clearing litter.
The researchers reasoned that watching eyes could potentially be effective against more serious norm-violations such as stealing bicycles.
According to the report, humans have fast, automatic psychological mechanisms which have evolved to respond to eye-­like stimuli, and that even mere representations of eyes affects us.
The original report goes into a lot more detail about the effectiveness of this technique, and its limitations. It's worth a read.
Changing the Perception
Criminals perceive stealing bikes as low risk, high reward in nature. This has to be changed so that they perceive it as more risky and less rewarding. Priceonomics argue for an increase in the penalty for bike crime, and the Metropolitan Police Service seem to agree according to their 2011 publication.
There's been a lot of good press lately about how the police have caught bike thieves, and the sentences they've received. Recently the police arrested several men ​at Brick Lane market in London for selling stolen bikes. In October 2014 a group of three were jailed for a combined five and a half years for stealing over 500 bikes. I hope this message is filtering down to thieves.
I wonder if the "watching eyes" technique could be employed, combined with a more threatening verbal message, to alter their behaviour and perception. The message could warn would-­be thieves, right in the moment when they are considering stealing a bicycle, that they could spend time in jail and be fined.
Would this help change the criminal's perception that bike crime isn't as low risk, high reward as they originally thought?
Ben Cory-Wright is a member of the Litelok® team, a company that has developed an innovative lightweight, flexible and secure bike lock. You can reach them on Facebook and Twitter.