When I first started this website I spotted a GPS tracker from Integrated Trackers that simple fits in your head tube and tracks your bikes position when it's activated.
What follows is a short review of the first generation SpyBike and how it works…
First Impressions
When I first got the SpyBike through the post, I was pretty impressed. It came with a SIM card and charger so saved me a trip to the shops.
The SpyBike was fairly easy to fit, which involved removing your original headset cap and replace it with the SpyBike.
General Use…
So after configuring the device (a simple process involving send some texts to the SpyBike), it was time to take my bike for a spin.
First off you place a magnetic fob on the device which turns the movement sensor on, when a thief steals the bike you'll get a text message alerting you to the movement and you can then go online to track your bike.
After taking the SpyBike for a little spin, below was the result…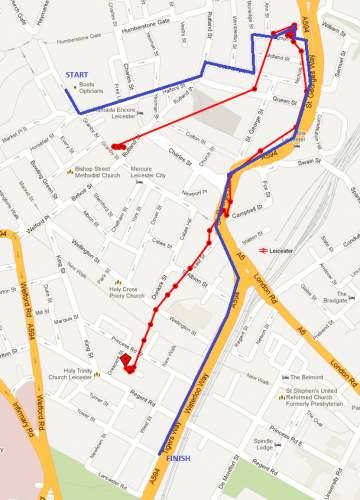 The blue line is my actual route and the red line the route the GPS said I took. The distance between them isn't a small enough for me to go banging on a door asking for my bike back but it does give me a general idea of the area I should be looking.
Other Features
To be perfectly honest I do not believe that the GPS tracker is what makes this device useful, it's far more useful to receive a text message alert when your bike senses a vibration and that is why I've left it fitted to my bike.
Other Problems
I also did some other tests with the GPS transmitter and it appears the GPS cannot receive a signal when there is something obstructing its view of the sky. For example if the bikes stored in a shed, van, under a canvas or in a house your bang out of luck.
In addition I found that the device would randomly turn itself off despite having a full battery. This isn't a complete disaster because you can turn it on via a text message but it doesn't help my own confidence in the product.
Would I recommend this product
Although the motion sensor feature is useful, it's really not worth £100 so no I wouldn't recommend this product. That said Integrated Trackers have seen this problem and have since bought out a 2nd generation SpyLight and will be bringing out a 3rd generation SpyBike for the seat tube, which will hopefully solve some of the problems I've mentioned.